Remarkable Golf at Every Turn
Designer Lee Schmidt says of this Fred Couples Signature Course, "Playing this course will be what it would feel like if you just happened upon a golf course carved out of nature."
The fairways meander down through low-lying ravines, long views of unspoiled Texas Hill Country sprawl beyond the rocky outcroppings and two creeks traverse the course enhancing the experience with stream crossings and natural water elements. The designers set out to create an exceptional golf experience for every level of player, with a delicate balance of challenge and fun created by the positioning of the holes in their natural scenic settings.
Men's
| Tee Markers | Yardage | Par | Rating | Slope Ratings |
| --- | --- | --- | --- | --- |
| Black | 7,033 | 72 | 75.4 | 145 |
| Blue | 6,679 | 72 | 73.7 | 143 |
| Member | 6,337 | 72 | 71.5 | 141 |
| White | 6,167 | 72 | 70.8 | 139 |
| Gold | 5,627 | 72 | 69.5 | 132 |
Women's
| Tee Markers | Yardage | Par | Rating | Slope Ratings |
| --- | --- | --- | --- | --- |
| White | 6,167 | 72 | 76.5 | 142 |
| Gold | 5,627 | 72 | 73.7 | 137 |
| Red | 4,921 | 72 | 69.9 | 127 |
Junior's
| Tee Markers | Yardage | Par | Rating | Slope Ratings |
| --- | --- | --- | --- | --- |
| Red | 4,881 | 72 | N/A | N/A |
| Green | 3,392 | 72 | N/A | N/A |
| Red | 4,921 | 72 | 69.9 | 127 |
| | |
| --- | --- |
| Greens: | TifEagle Ultra-Dwarf Bermuda |
| Fairways: | Tifsport 419 Bermuda |
| Rough: | 419 Bermuda cut to 2" for normal play |
| Bunkers: | 1830 Bunker White |
| Distance Markers: | All yardages are located on the sprinkler heads on the golf course and are measured to the center of the green. |
| Course Designer | Fred Couples Signature Course designed by Schmidt-Curley |
Walkthrough
Our 18 Hole Course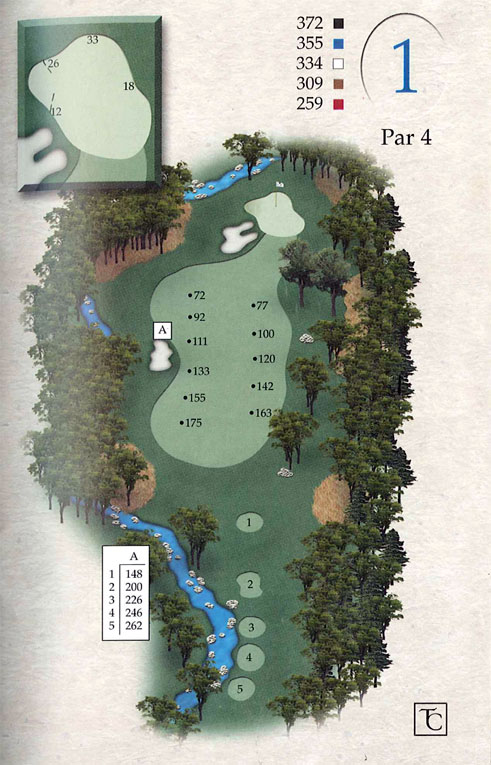 | | |
| --- | --- |
| Black | 372 |
| Blue | 355 |
| White | 334 |
| Gold | 309 |
| Red | 259 |
| Par | 4 |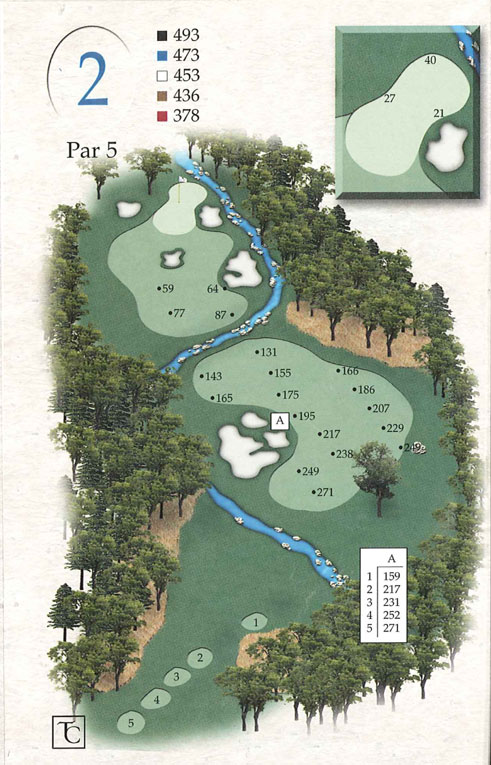 | | |
| --- | --- |
| Black | 493 |
| Blue | 473 |
| White | 453 |
| Gold | 436 |
| Red | 378 |
| Par | 5 |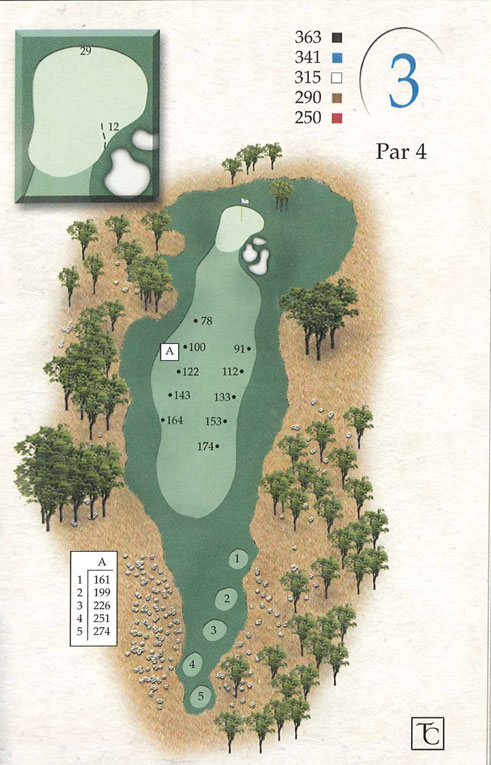 | | |
| --- | --- |
| Black | 363 |
| Blue | 341 |
| White | 315 |
| Gold | 290 |
| Red | 250 |
| Par | 4 |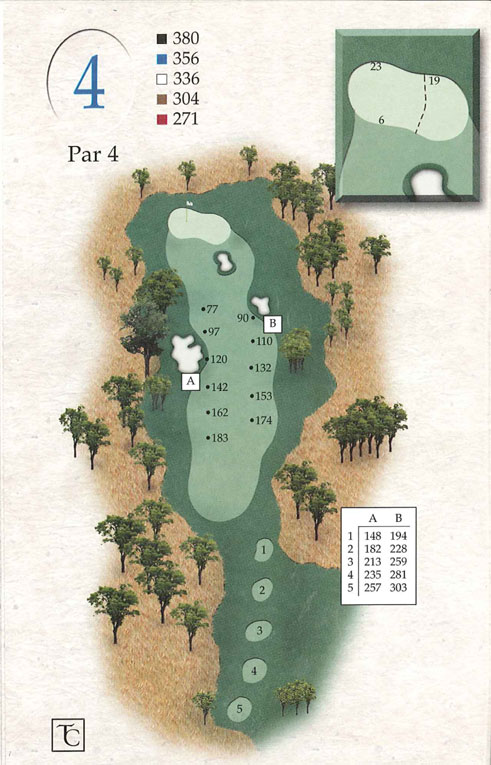 | | |
| --- | --- |
| Black | 380 |
| Blue | 356 |
| White | 336 |
| Gold | 304 |
| Red | 271 |
| Par | 4 |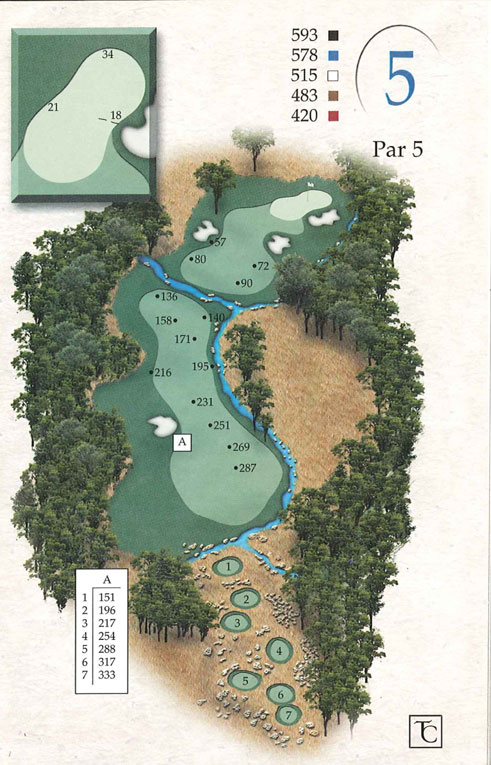 | | |
| --- | --- |
| Black | 593 |
| Blue | 578 |
| White | 515 |
| Gold | 483 |
| Red | 420 |
| Par | 5 |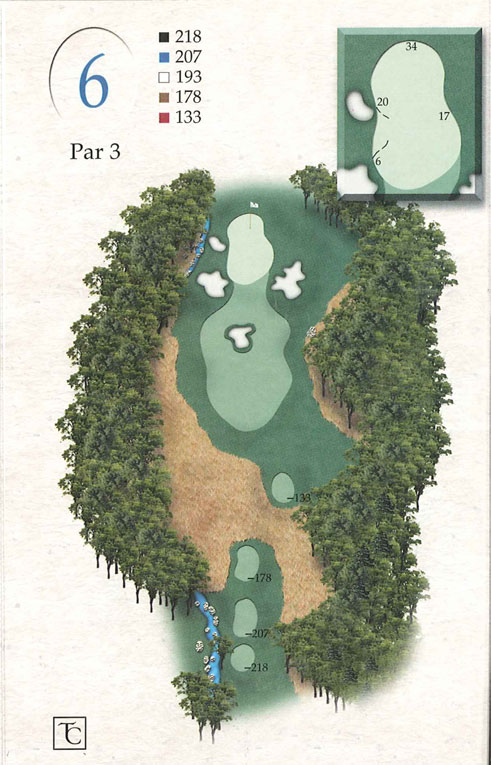 | | |
| --- | --- |
| Black | 218 |
| Blue | 207 |
| White | 193 |
| Gold | 178 |
| Red | 133 |
| Par | 3 |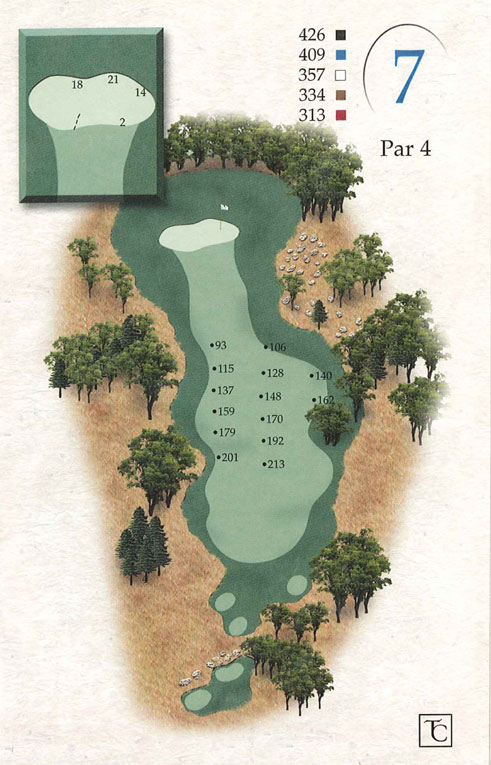 | | |
| --- | --- |
| Black | 426 |
| Blue | 409 |
| White | 357 |
| Gold | 334 |
| Red | 313 |
| Par | 4 |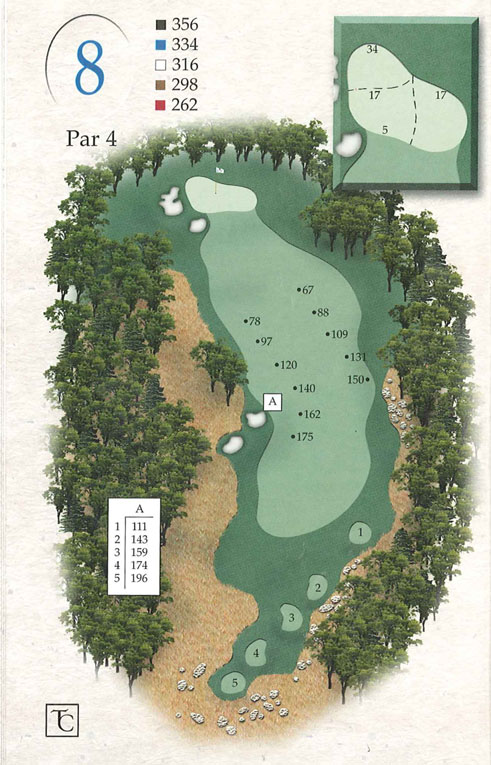 | | |
| --- | --- |
| Black | 356 |
| Blue | 334 |
| White | 316 |
| Gold | 298 |
| Red | 262 |
| Par | 4 |
| | |
| --- | --- |
| Black | 208 |
| Blue | 196 |
| White | 160 |
| Gold | 129 |
| Red | 89 |
| Par | 3 |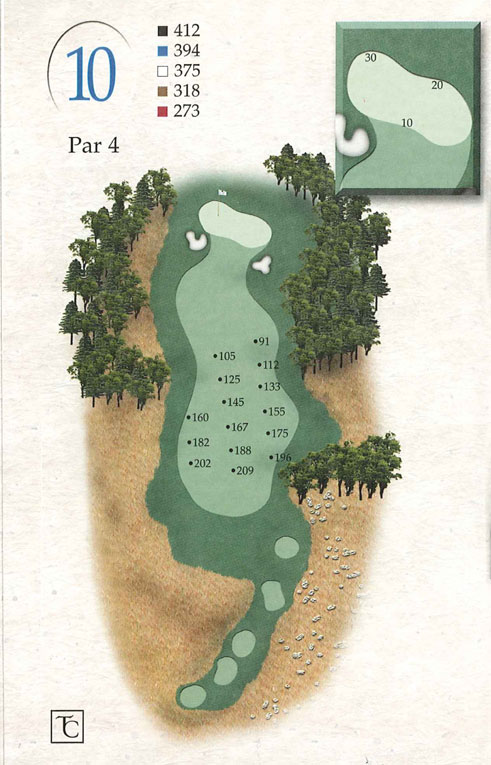 | | |
| --- | --- |
| Black | 412 |
| Blue | 394 |
| White | 375 |
| Gold | 318 |
| Red | 273 |
| Par | 4 |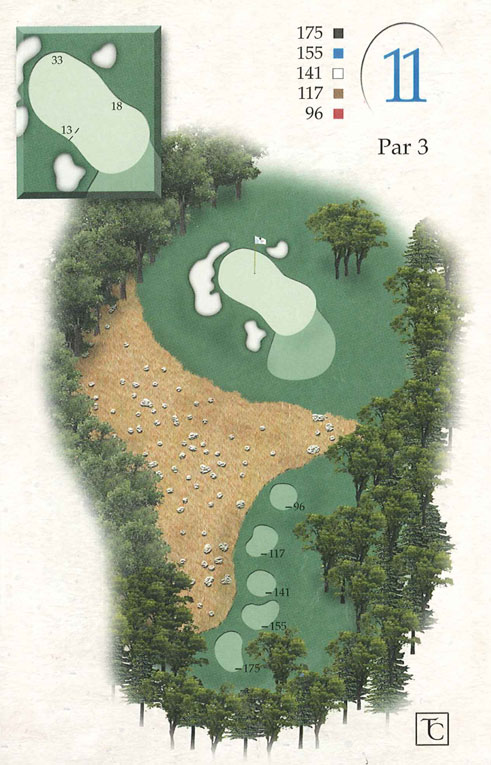 | | |
| --- | --- |
| Black | 175 |
| Blue | 155 |
| White | 141 |
| Gold | 117 |
| Red | 96 |
| Par | 3 |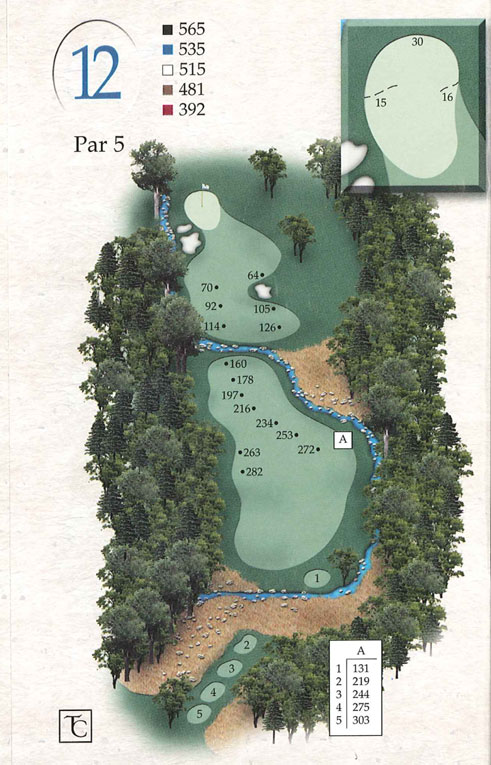 | | |
| --- | --- |
| Black | 565 |
| Blue | 535 |
| White | 515 |
| Gold | 481 |
| Red | 392 |
| Par | 5 |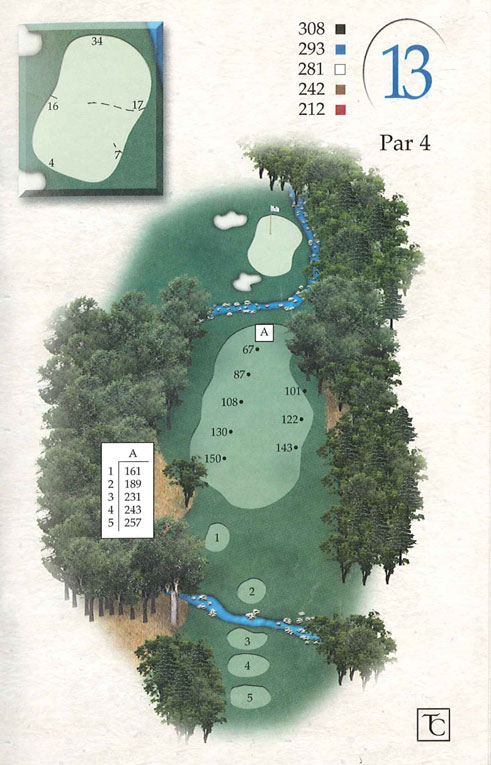 | | |
| --- | --- |
| Black | 308 |
| Blue | 293 |
| White | 281 |
| Gold | 242 |
| Red | 212 |
| Par | 4 |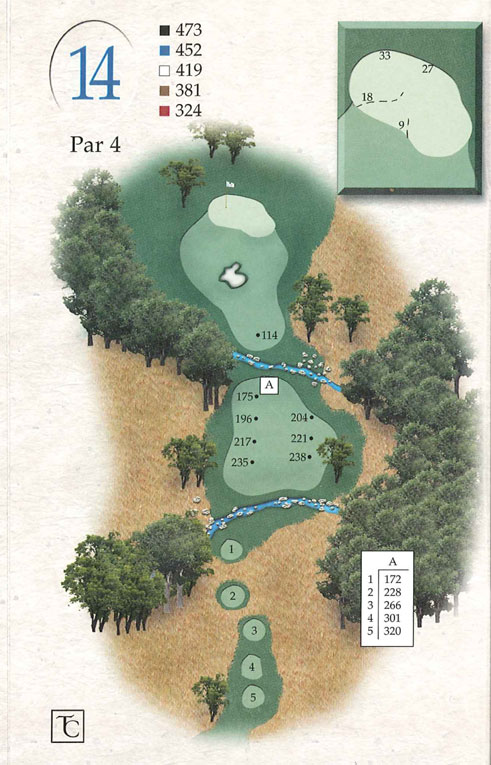 | | |
| --- | --- |
| Black | 473 |
| Blue | 452 |
| White | 419 |
| Gold | 381 |
| Red | 324 |
| Par | 4 |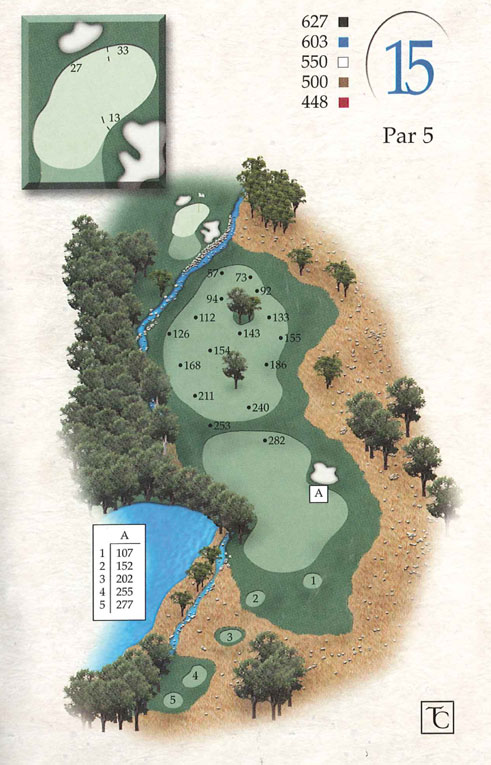 | | |
| --- | --- |
| Black | 627 |
| Blue | 603 |
| White | 550 |
| Gold | 500 |
| Red | 448 |
| Par | 5 |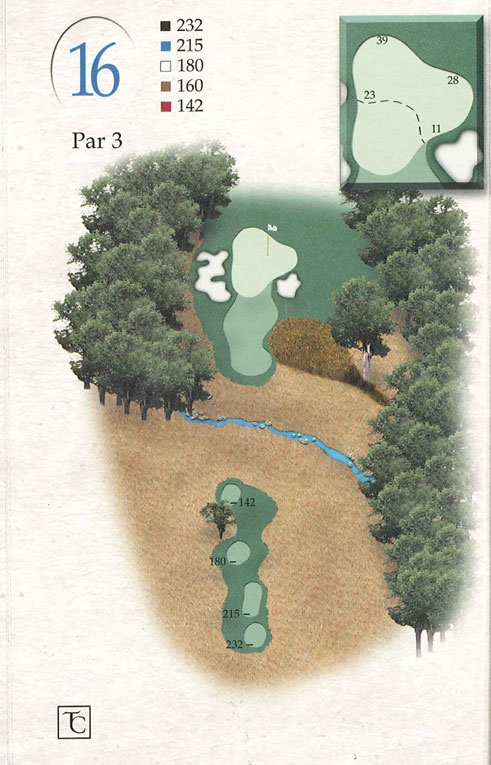 | | |
| --- | --- |
| Black | 232 |
| Blue | 215 |
| White | 180 |
| Gold | 160 |
| Red | 142 |
| Par | 3 |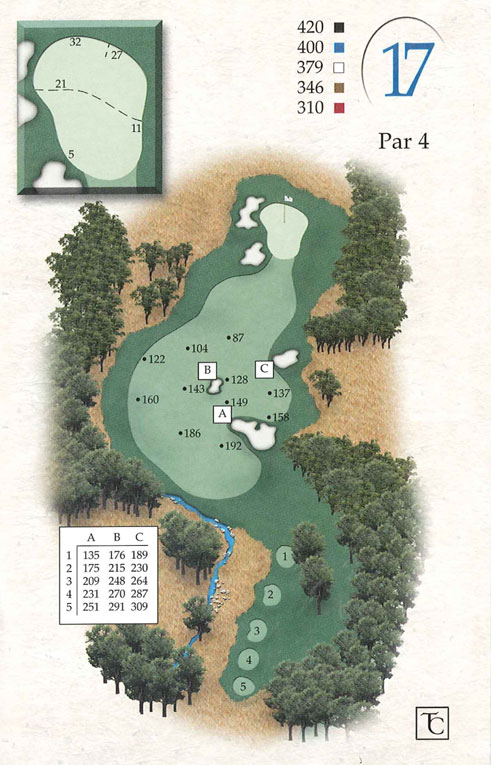 | | |
| --- | --- |
| Black | 420 |
| Blue | 400 |
| White | 379 |
| Gold | 346 |
| Red | 310 |
| Par | 4 |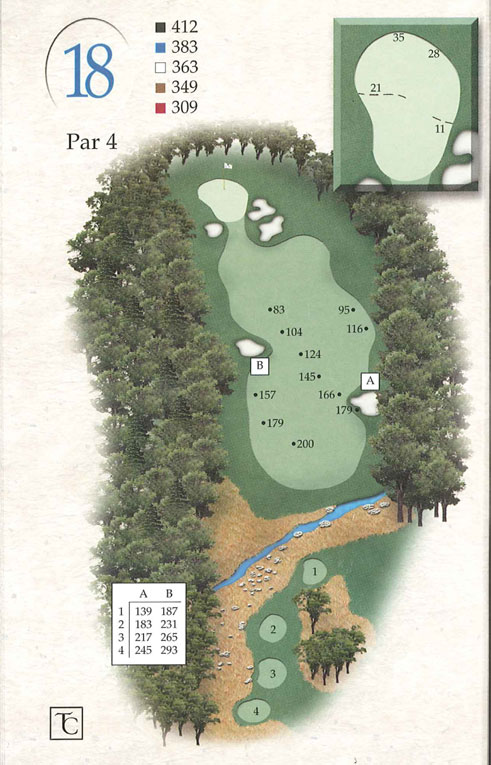 | | |
| --- | --- |
| Black | 412 |
| Blue | 383 |
| White | 363 |
| Gold | 349 |
| Red | 309 |
| Par | 4 |